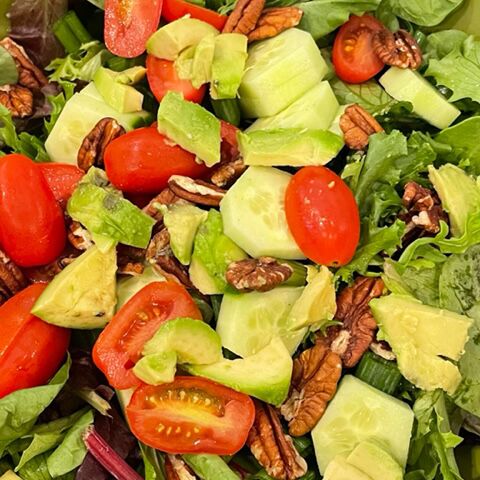 Family Wellness
3 Ways to Create a Meal in a Hurry
Ever wrap up a day with no idea what you are having for dinner, and suddenly panic? You are not alone. Yesterday, I picked up the kids from school, we rushed to appointments, and walked in the door 5:30pm. We were all starving, and I had nothing prepped. Usually, I try to have at least one thing done– a sauce, a salad dressing, a side, a source of protein. At the end of week, I had nothing. Ordering in would have taken too long.
So, I implemented my convenient meal method.
Break your meal into three parts: protein, vegetable, (or fruit if your kids are selective), and carbohydrate. Think about your plate and break it into three parts: ½ veggies, ¼ protein, and ¼ carbohydrate.
Find a frozen food, season it, bake it, sauté it, or toast it. You can use frozen veggies (season with salt and pepper), protein (fish, prepared chicken, a turkey, or veggie burger), sweet potato fries, a whole grain (rice, waffles, bread).
Make a salad and a simple dressing.
I quickly washed grapes for the boys to snack on and looked through the freezer for frozen mixed vegetables, which are convenient and full of nutrients. They are frozen at peak freshness and retain vitamins and minerals. I heated them on the stovetop with a little olive oil, salt, and garlic powder. I also found frozen sweet potato fries and popped those in the oven. As for protein, I asked the boys if they wanted salmon or hard-boiled eggs. They chose hard boiled eggs, so I made a dozen (we could make egg salad tomorrow or use them in salad or on avocado toast). Quickly, I threw together a salad with bagged organic lettuce, cherry tomatoes, scallion, and chopped cucumber for extra volume, fiber, and crunch. Dinner was done in 30 minutes.
Modifications: One of my boys doesn't like sweet potato fries so I toasted him organic whole grain bread, instead.
Bonus: I had leftover eggs, vegetables, and salad for lunch the next day.
It wasn't a glamorous dinner, but everyone was satisfied and happy.
Pro-tip: Follow @cookinrd on Instagram for impressive cooking reels.
What's your go-to quick meal and what's one way you could make it better?
---
Packages
All counseling is virtual via a HIPPA compliant interface.