Nutrition is important throughout the life cycle. Before a child is born, there are certain nutrients that they must receive for proper growth and development. The moment a child enters the world, nutritious eating continues to be critical for building a healthy immune system, normal growth, development, and cognitive function.
Our nutritional needs change during different stages of life. And food is so much more than vitamins and minerals. Food is an experience, it is family, food is fun.
I started my career over a decade ago as a dietitian working with kids and families to optimize their nutrition and take the stress out of eating. I specialize in working with children in larger bodies as well as kids with type 1 and type 2 diabetes. All their nutritional needs were different, but something remained constant. They needed the support and understanding of their parents to thrive and be successful.
Parents provide the food and say when kids eat (up until a certain age), and kids determine what they eat and how much. But, as parents in this modern world, we have our hands full. We are juggling it all and trying to feed our families the best we can. It's important for you to also get support. Working with a dietitian will equip you with the tools you need to help your children eat with confidence, gain independence, and become the healthiest version of themselves.
Cooking with kids fosters relationships by creating and reinforcing bonds. I can teach you how to do this, too.
Whether your child is struggling with weight and energy, is striving to achieve an athletic achievement, is a more selective eater, or has some developmental inadequacies, working with a dietitian can help.
Personally, I have two boys ages 7 and 9. One is willing to eat everything, and the other is more selective. One has severe eczema and the other has exercise induced asthma. One has several nut allergies, the other has none. They are so different and require different things. I know how hard it can be to figure out what to put on the table day after day. I can help take the stress out of mealtime.
Chronic Disease is a broad term that reflects a condition that lasts 1 year or more and requires ongoing medical attention, limits activities of daily living, or both. It is estimated that 6 in 10 adults in the U.S. have at least 1 chronic disease, and 4 in 10 adults have 2 or more. Some of the most common chronic disease include diabetes, heart disease, and cancer, but mental illness and autoimmune diseases can also be considered. While there are so many contributing factors to developing chronic disease – genetics, environment, lifestyle, trauma, etc. - one thing remains a constant; a nutritious eating plan can help to manage, prevent, prolong, and aid in the treatment of chronic disease.
Registered Dietitians must complete a 6-month dietetic internship that rotates throughout different functions of the hospital, including Cardiac, Transplant, Pediatrics, Maternal, Gastrointestinal, Rehab, Surgery, etc. All hospitals staff dietitians because medical nutrition therapy is important for prevention, management, and treatment of health conditions.
As a person living with chronic disease myself, I know first-hand how important a well-balanced diet is throughout the disease process. Although your needs may change, what you eat will always impact your health.
In my experience, one common issue is that people don't know what to eat, how to prepare food, or how to maintain the pleasure of eating to ensure they feel their very best. You may need help planning meals, trying new foods, and getting out of a food rut. You may need to gain confidence in the kitchen or learn how to shop for food.
I recently received my Plant Based Culinary Certification with Rouxbe online cooking school and am so excited to share my skills with you all.
Whether you need to gain energy, recover from surgery, figure out a meal plan that optimizes your health, or are struggling to feed yourself and your family because you are not well or receiving treatment, I can help you.
Learn more about Cycle for Survival and my story
Hi, my name is Barbie Cervoni. I am a Registered Dietitian, Certified Diabetes Care and Education Specialist, and an expert in chronic disease prevention and management. I am a culinary enthusiast and received my culinary certification in Plant Based Cooking from Rouxbe online cooking school. I wholeheartedly understand the barrier, burdens, and struggles that come with managing a condition. And I firmly believe in the power of nutrition for preventing, treating, and managing disease. Over a decade ago, at the end of my master's program at New York University, I was shockingly diagnosed with thymoma, a rare cancer of the thymus gland. I had surgery and preventative radiation treatment (which I completed on my 26th birthday), and was cancer free.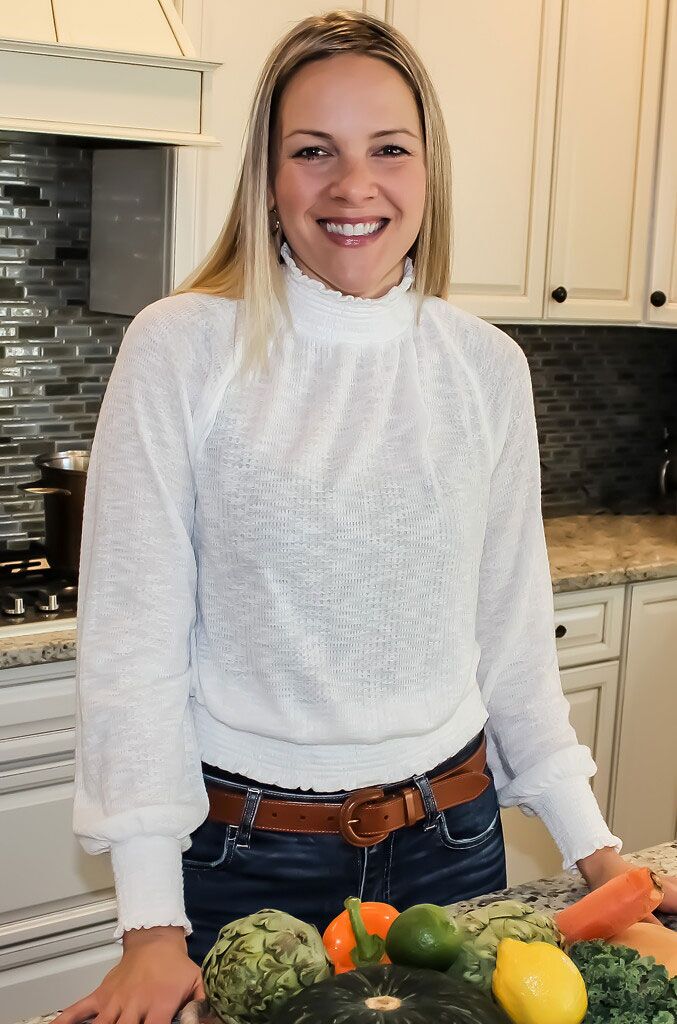 I became a dietitian, married my best friend and college sweet-heart, and had two amazingly wonderful and energetic boys. Eight years later when my youngest son was six months old, my cancer came back with a vengeance. I experienced horrific symptoms, multiple surgeries and hospitalizations, and countless failed interventions and medications. I began to lose hope until a wonderful team of doctors solved the mystery of my deteriorating health.
I have endured many more medication trials, infusions, scans, specialist appointments and, although my health isn't "perfect," I am the healthiest and strongest I have ever been in my entire life. My medical diagnosis and prognosis is complex; I am currently living with rare cancer and an even more rare autoimmune disease. Still, I am thriving. Through a healthy lifestyle, I haven't needed any medication or treatment in almost three years. I may be living with cancer, but I am fully living each day with meaning and purpose.
My mission with Better Livin Nutrition is to bring empathy, light, love, credible information, hopeful humor, and lots of nutritious food into your life. I truly believe that at every stage of life, wherever we are in our feeding journey, eating well can allow us to live better. Nothing in life is perfect, but most things can be better.
Do you want to live better? I have spent my career educating children, parents, and people with chronic disease on the power of small, sustainable changes. If you are a parent with chronic disease struggling to feed yourself and your family, a child that needs to establish a healthy relationship with food, or a person living with diabetes or another chronic condition, I am here to support and help you create the healthiest version of yourself. There is no one-size-fits-all to nutrition. Let's work together to determine what you need to live better.
I studied abroad in Australia, rode a camel, hiked the Outback, and went bungy jumping in a rainforest.
I raise awareness for rare cancer research and have been in the Memorial Sloan Kettering newsletter and featured on their Youtube channel.
My real name is Barbie. Yes, it's on my birth certificate. Sometimes I give an alias name at Starbucks if I don't feel like dealing with commentary, but I am learning to embrace it.
It took me one year to get my oldest son to eat salmon. Now, he loves it!
I love to cook and have my plant-based culinary certification from Rouxbe, which I completed during the pandemic. When I am anxious, distracted, or procrastinating, I cook.
Exercise helps me mentally and physically. I love to run, lift weights, practice yoga and Pilates, and jump rope and have been working on mastering my doubleunders.
Loyola University 2004 Bachelor of Science, Psychology
Monash University, Australia Spring 2003
Dietetic Internship 2007-2008, Mount Sinai Hospital
New York University 2008, Master's of Science in Clinical Nutrition
Plant Based Culinary Certification Rouxbe Online Cooking School 2021
"The only person you should compare yourself to is the person you were yesterday."
- Amy Morin
Frequently Asked Questions
The initial consultation is an in depth look at your medical history, nutrition history, eating behaviors and preferences, food intake, and physical activity. This session is an exploratory session that helps me curate a personalized nutrition plan to meet your needs. During this session, I look at all aspects of eating. Together we will identify specific goals and potential nutrition gaps that need to be addressed. We can discuss if a meal plan is necessary or if you need more education on food preparation, shopping, etc. Before this session, I ask that you send me any pertinent medical information – labs, doctor notes, tests, etc. There is no one-size-fits-all to nutrition, but together we will find a plan that helps you become the healthiest version of yourself. The magic doesn't happen overnight, but if you are committed to yourself, you should expect positive changes.